Editorial
By Bhaskar Chakrabarti- Professor, Public Policy & Management Group, IIM Calcutta
Dear Reader
Welcome to the current edition of our newsletter.  Keeping up with the eclectic nature of work that this newsletter reflects, we see how Planet Abled provides differently abled people an opportunity to break any limitation and get into mainstream travel.  They show how to create a 'homely environment' for these people when they travel for leisure.  On the other hand, Saathi Pads give us pads made of banana fibre. The team has also created a new income source for farmers by buying waste banana fibre from them.  NextConnect, through its endeavours, teaches us how to address the problem of unequal access to quality-education and information among urban and rural students in India. They are focusing on the lack of holistic development among students. Finally, the newsletter showcases National Agripreneurs Summit organized on 26th August, 2017.
Natural Feels better
By Kristin Kagetsu , Co-Founder Saathi pad
Key to the project was creating an environment friendly, non-toxic product. Disposable pads, as most of the world knows them today, are made using non-biodegradable plastics, chemical toxins ,bleachesand do not decompose in landfills.
Saathi pads are made entirely of banana fibre, an absorbent, and abundant waste-material. Banana trees grow fruit only once and then the stem is discarded and becomes an agri-waste. . The team has created a new income source for farmers by buying waste banana fibre from them.
Tarun Bothra, Co-Founder, CTO of Saathi Pads says, "Sustainable Innovation is KEY for the future because if you don't make a change today there won't be a tomorrow to live in. I am passionate about sustainable development because it allows you todevelop something which is not harmful to anyone in the future.
We live in a beautiful earth, but we protect our environment. Keeping this in mind, Kristin and her cofounders came up with an idea to develop low cost biodegradable sanitary pads. Conventional sanitary pads are made of primarily plastic and chlorine-bleached wood pulp, which causes some women skin irritation and rashes, and is harmful to the environment upon disposal.
Today, one of the main issues faced by our society is plastic waste management. Non-biodegradable plastic waste increases the pollution in society and remains non- biodegradable for years. Saathi is India's first company to manufacture 100% biodegradable pad made from banana fibres and absolutely chemical-free. Unlike other leading brands who use imported bleached wood pulp, Saathi sources and manufactures locally.. Patent-pending fiber processing technology converts banana fiber into a soft absorbent that provides women long lasting & natural protection. Saathi pads degrade within 6 months of disposal, 1200 times faster than conventional pads, which currently represent 150,000 tons of waste in India annually.
The organization directly employs 11 women in pad production. In India, over 80% of women do not have access to sanitary pads. When women in urban markets buy Saathi pads, they subsidize the price of pads sold to NGOs that serve low-income women.
Saathi pads are currently available in their website ( https://saathipads.com/ ). The pads are made from natural materials including banana tree fiber which means the pads are absorbent yet eco-friendly. The company, is looking for additional investment to scale-up the production, Kagetsu says.
Achievements are always remarkable:
○ Sold 1600+ boxes online.
○ Product available pan-India.
○ Delivered 45k pads to rural Jharkhand
○ Increasing demand both within India and abroad
○ Awards etc.
Hello Tomorrow Social Impact Award Winner; Wellbeing Track Finalist; Grand Finale Winner 2017
MIT SOLVE Winner 2017
Good Festival Prema Gyan Medal Winner 2017
Circular Board Pitch for Purpose Winner 2017
SXSW Accelerator Pitch Finalist in Healthcare 2017
Asia Social Innovation Award 2017
Tata Social Enterprise Challenge Finalist 2017
Edie Sustainability Awards Finalist 2017
Asia Society Action Lab Grant 2016
3M Young Innovators Challenge Winner 2016
MIT D-Lab Scale-up Fellow 2015
Masschallenge Finalist 2014
Harvard Business School's New Venture Competition 2014
In the beginning it was the manufacturers who were promoting the product, but now the consumers are demanding sustainable products t which means the market is growing. This is great for women and the environment as well!
Accessible Travel for People with Disabilities
By Neha Arora , Founder -Planet Abled
World is nostalgic, whether we just feel it through our five senses or experience it wandering in wheel chair or our own feet. This world is for everybody, whosoever it is. We should explore the world with an open mind, without any hindrance, hence we got in touch with a young lady who founded an accessible tourism start up, called Planet Abled.
"My personal not so good travel experiences as a daughter of parents with disabilities led to the inception of Planet Abled. My father is blind and mother is a wheelchair user, but we all are fond of traveling." – said Neha Arora the founder of Planet Abled. The zeal to travel but the difficulties that she has faced while travelling lead her to break every barriers and create her own travel agency for disabled people. After working for more than two years she finally took the call to leave job at Adobe in Nov 2015 and officially launch on 1st January 2016.
People with disabilities are not considered part of our mainstream society and are always looked upon with sympathetic views and in need of support. When it comes to indulging in travel and leisure activities, people don't even consider them doing.
A person with a disability, travelling to unknown territories pops up a lot of questions in their mind. Planet Abled identified this gap and came forward to give freedom to travel no matter with whatever disability they have!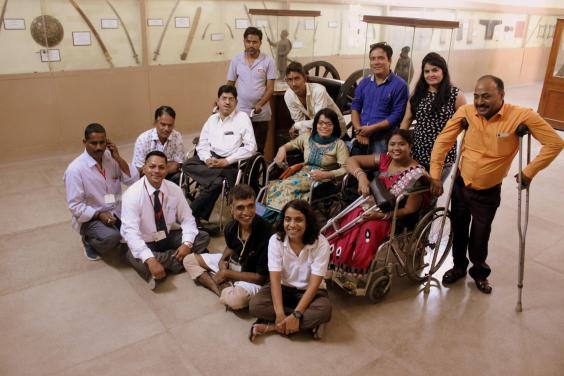 For every disable people the tour have to be planned in such a manner that they feel a homely atmosphere. Special care should be taken so they have a nice experience while travelling. Planet Abled has sign language interpreter for deaf and dumb who are in sync with the guide of the tour. The guides are very well mannered, enthusiastic to assist the travellers, so that any disable person do not feel that they are neglected. Planet Abled was incepted to give people with disabilities an opportunity to break their limitations and get into mainstream leisure and travel. Giving them an avenue to visit places freely and confidently, leaving behind social inhibitions and apprehensions about their capabilities.
NexConnect provides a new edge to education.
By Priyadarshini Dey, Founder : NexConnect
The journey began in the year 2013 not as entrepreneurs, but as social science and computer science researchers. These schools shared common problems of teacher absenteeism, poor quality of teachers, teaching learning materials and overall learning environments. We studied that the quality of education can be uniform throughout the country only by using the potentials of digital technology. In this light, we conducted some social experiments by connecting students with quality teachers using social technologies (i.e., technologies used by people to interact socially and to create, enhance, and exchange content). These teachers were mostly retired school teachers having more than twenty years of teaching experience. Success of this mode of online learning, led us to develop our own teaching learning platform in the year 2016. This online learning platform acts as a bridge between teachers and students. Teachers and students login to take online live classes through this platform. This gave way to the ideas of converting themselves into social entrepreneurs where they designed a hybrid business model where rural students receive online quality education from quality teachers from the city at a subsidized rate.
NexConnect is addressing the problem of unequal access to quality of education and information among urban and rural students in India. They are also focusing on the lack of holistic development among students in both rural and urban areas.
NexConnect synchronous mode of e-learning that connects students and instructors live, online at a pre-determined time using a videoconferencing meeting room where queries and doubts of students gets addressed immediately. The problem of poor quality of teachers in rural areas is addressed by making quality and experienced teachers available online. Apart from academic subjects NexConnect also focus on providing vocational training and Grand parenting to students. These non-academic subjects taught by experts and senior citizens play crucial role in igniting values, morales and ultimately develop students holistically. Unequal access to quality of education in rural areas is addressed by creating NexConnect Internet schools in r
INVENT
Invent Incubatee :Medi 360
Sector : Health
The founders of Medi360 have worked together for 5+ years previously. During that period, they have been discussing the need for developing meaningful technology for semi-urban/rural population of India.
Amar and his team realized that access to Healthcare is one of the key areas of improvement in India, as population to doctor ratio varies between 1700 to 29000 as against the recommended WHO standard of 1000. Rural pockets fare even less on this metric as most of the doctors are concentrated in Tier 1 cities and other urban centres. As an outcome of this low doctor ratio, quality of care is very low in rural areas with people suffering from complications arising out of easily preventable / treatable diseases due to lack of quality care.
Technology interventions to improve this quality of care as a viable option became imperative during these discussions. This idea was further strengthened when Amar got a chance to manage one of the largest tele-medicine implementations in India with Bihar state government as part of the NRHM's NARTAN project. The project went onto serve more than 4 lakhs patients over 2.5 years.  During this project, the team members had on the ground experience of the challenges faced by rural India due to absence of quality healthcare. This helped cement our motivation to enter this space, develop a model for delivery of affordable quality healthcare services and further strengthen the technology platform to support the objective.
The product is already out in the market and running for more than 12 months across 10 centres. Medi 360 have been associated with CSC Government of India (MoU Signed in August) Digital Doctor Kendra initiative which has given us traction in setting up our centre across 55 locations across India.
The Medi360 solution aims to provide quality healthcare services to low Income population in areas where there is a paucity of doctors. It comprises of the following components:
Technology platform – Medi360 Hospital / Clinic in a Box, a cloud based End to End Technology enabled low cost Tele- health solution which comprises of:

Electronic Medical Records
Integrated diagnostic devices – Vitals (BMI, Temperature, BP, SpO2), ECG, Blood Glucose and other strip based blood tests as required
Remote consultation and Prescription
The deployment is in the form of mobile unit accessed thru an Android Tablet
Doctor network with committed capacity from General Practitioners with additional capacity provided on schedule by specialists
A last mile delivery network leveraging private operators to set up Medi360 clinics; (Pharmacies, village entrepreneurs etc) manned by technicians and a strong operational framework to manage on ground operations
The integrated service delivery of low cost healthcare services enabled by technology addresses the gap of availability of affordable healthcare services in our target markets. The delivery network manned by a trained technician at the last mile makes the service credible and usable by rural population.
Medi 360 addresses the need for accessible and affordable healthcare services in rural India. Currently our focus is in the states of Bihar, Chattissgarh, Jharkhand and Eastern UP.
Some of the ground level issues are the below:
Low public spending on healthcare
Low doctor to patient ratio
High percentage of rural population
These factors have contributed to a very high cost of healthcare in private sector, which many poor patients are forced to pay as there are no credible alternatives. Moreover, a number of solutions on the ground are either focused on medical devices in a particular area or non-scalable business models that beyond a point do not provide a compelling long-term solution for providing on the ground primary healthcare attention in the underserved areas.
Social impact the venture has created so far:
Healthcare seekers in Rural Areas

We are currently operating 10 full centres across Bihar and Chhattisgarh over last 12 months.
We have seen over 9000 patients and at these centres expect to serve over 40,000 patients on an annualized basis.
During the course of these 12 months we have a 33% repeat patients which is a very good rate in an healthcare clinic scenario over this time period.

Rural entrepreneurs who are associated in the Healthcare segment and would like to formally get involved. Each 5 – 6 centre cluster will generate employment to 7 individuals, hence currently we have employed  2  local resource at the rural level.
Local government: We have data with respective to ailment and diseases in these areas and the same can be used to derive useful patterns for healthcare providers and government.
National Agripreneurs Summit
National Agripreneurs Summit was organized on 26th August, 2017 by Entrepreneurs Organization India with several national and international organization at Mavlankar Auditorium, Constitution Club of India, New Delhi.
It's a campaign that aimed to empower farmers of the country by attracting, connecting, promoting Entrepreneurs in agriculture and Allied Sector. Government of Netherlands, IIM Calcutta Innovation Park, Indian Institute of Foreign Trade, IITs, StartUp India were official partner in it.
Total 650 application were received through online registration process. Some key points that were highlighted in the summit are:
First time in India Agriculture, Idea Pitching Competition took place with cash Award of Rs 3.20 Lacs for 5 best selected ideas in NAS 2017.
National Award was given to 13 innovative agripreneurs based on achievement, innovation and impact.
Funding was provided to best Agriculture & Allied sector upto 1 crore.
Direct networking was done with National and International Agencies like WEF, Govt of Netherlands, Spain, and Israel.
The start Up promoted professional business approach in Agriculture with Indian and foreign organizations.
The summit began with inauguration, National Anthem and lighting lamp ceremony followed by welcome speech by Mr. Abishek Singh Chief Strategist EAI and Mr. Sashi Mohan, national Committee member EAI. This was followed by speech and address by Mr. Swaaraj Sinha- National Committee Member EAI, Mr Amit Parasar- CEO/UNID Global, and Mr Anand Krishnan – Dy Agri Counsellor. Embassy of Netherland and Dr Vijay Sachdeva- Senior Advisor horticulture Development.
In the first business session 'Agripreneurship a Career Option' was the agenda which were discussed by the 5 speakers (Mr Subhadeep Sanyal – Principal Omnivore Partners, Mr. Ravinderjit Singh- CEO- Agrinnovate India, ICAR (Govt of INDIA.), Mr. Vijay Sachdeva- Senior Advisor horticulture Development, Mr.Ronald Van– women of wings and Mr. Garth Halloway –MD Innotech Aqua.
The speaker spoke about how the demand and scope in agriculture is increasing, innovative ideas can change the entire ecosystem and increase the employment options for the entrepreneurs.
The agenda for second business session was 'Opportunity for innovation and Intervention in the sector, chaired by 3 speakers (Mr. Shasank Kumar,IIT Delhi- Founder- Farms & Farmers,   Mr Gaurav Kapoor Head Invent Program (IIMCIP), Mr Sanjay Sethi (Phoenix Global Dubai) ). The speaker generally focussed about the growth in the agriculture industry, and because of the innovation many more things can be achieved from this sector. There were 570 candidates sent all across India, out of which the jury selected top 5 entrepreneurs. The parameters on which they judged were idea, technology, Scalability, Financial/Economic, Team. The winners were awarded total cash prize of 3.20 lakh.
Mr. Abishek Singh the chief strategist of EAI thanked all the media and the participants   for their presence and support towards the summit.
Entrepreneurs Association India is the most versatile and unique in the country for all sphere of Entrepreneur. EAI mainly focuses in the growth of Entrepreneurs in district and community level. EAI provides an easy-to- access social network, allows an entrepreneur to connect to business mentor present across the globe so they can solve problems and build a feasible business model together. This is the Association where fellows share connection, funding and opportunities.
Upcoming Events
1. SMART FIFTY ( 7th December, 2017) 
IIMCIP in association Department of Science and Technology , Government of India launches Smart Fifty ( 50- Solutions to transform India.) Smartfifty is probably the biggest StartUp Hunt in India. It is an initiative aligned with the country's focused approach to promote entrepreneurship driven social development.
To apply, visit : http://www.smartfifty.com/
2. Villgro Innovations Foundation:  iPitch – APPLY NOW!
iPitch is all about Investment for Impact! iPitch is not a business plan competition, but a hunt to invest in India's unconventional social enterprises. It is organised by Villgro, India's premier and largest social enterprise incubator.
For Details visit : http://villgro.org/ipitchapply/
3. Tsec Final
Tsec finals at IIMC campus on 5th & 6th Jan , 2017. Top 20 teams for Tsec 17-18 will be felicitated and eminent social entrepreneurs, investors and academicians who have already established their own outstanding ventures and have impacted the lives of thousands of people will share their views.
For details pls contact : communication@iimcip.org